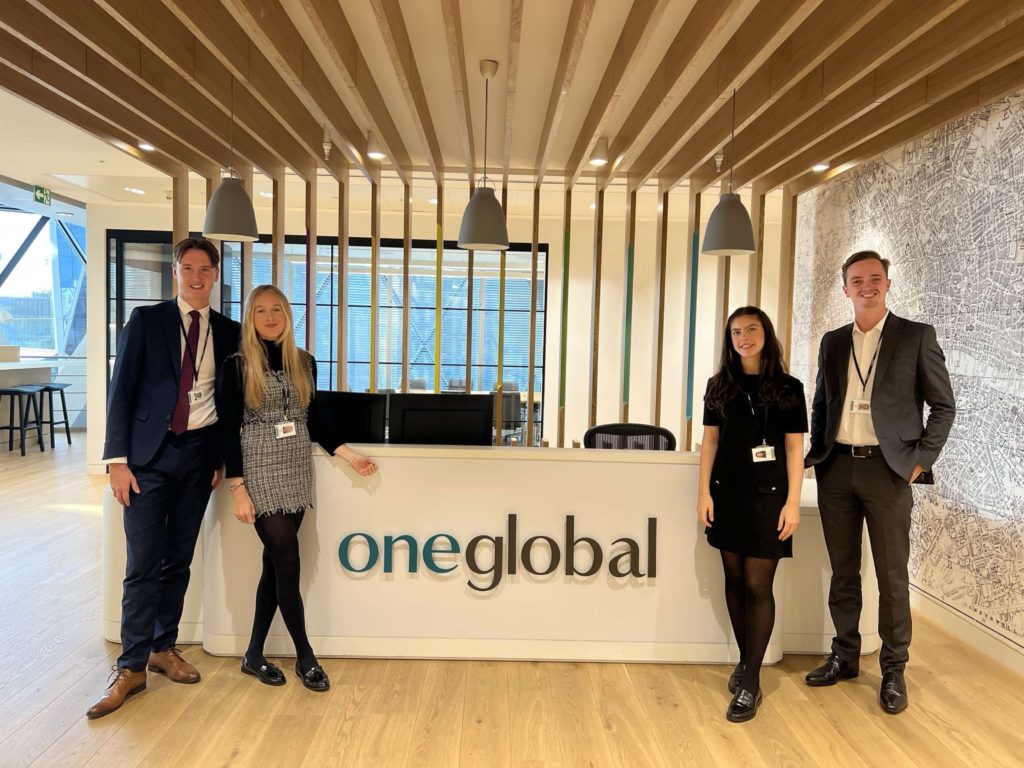 You might be a school leaver looking for an alternative to university. Or someone further along the line looking for a career change – our paid apprenticeship scheme could be for you.
We've just welcomed our latest team of talent (pictured) – James, Brooke, Regan, and Tullulah – and they already feel part of the family.
But what's so special about the scheme and why should you follow in their footsteps?
Chose a career where sky's the limit
Okay, we're a bit bias here, but we believe the commercial insurance world is a great place to build a career. Insurance touches every industry – just take a look at our different specialisms to see where your career can take you.
From cannabis farms, to satellites in outer space, to cargo ships touring the globe – you get to work with some of the most innovative and important businesses out there.
We've also got offices and clients all over the world, including the UK, Asia, Bermuda, Europe, Latin America, and the Middle East, so depending on your role, your career can take you far and wide.
Bag a qualification, plus loads of on-the-job experience
The scheme includes a qualification – we'll find you a course that best supports your role and gives you a strong, base-level of knowledge on the job.
And you'll get plenty of time to put all your new knowledge into practice. We're all about learning by doing at Oneglobal, so whatever team you join, you'll have loads of opportunity to develop on the job.
Like our latest cohort, you'll have three other apprentices with you. It means you've got some colleagues you can lean on for support who are all going through the same process. As James, one of the current group puts it, "Starting this experience together has made us feel comfortable and we've already made some great friendships".
Get a mentor, fast-track your development, and get paid while you do it
And alongside your fellow apprentices and the team you work in, you also get a mentor – one of our most experienced team members, who's volunteered to guide and help you.
"We pick our mentors based on their knowledge and experience in the industry, but also because they have a strong desire to support those who are passionate about growing their career," says Jeanette Paul, our Executive Director HR.
If you're a school leaver, you'll also be getting ahead of university graduates. By the time they graduate, you'll be several years into your career, with a lot more practical, real-world experience behind you.
And you get paid. We make sure everyone feels valued at Oneglobal, and we set our apprenticeship salaries with that in mind.
Join an inclusive scheme and company
Anyone, at any age, and with any background, can start their apprenticeship journey with us. And you'll be joining a company and scheme that is taking steps to create a more diverse and inclusive industry. So, whatever your story, there's a place for you at Oneglobal and there's no limits to what you can achieve.
Want to know more?
Get in touch with Becky at hr@ogbroking.com and we'll be back to you when the next round of opportunities open up.